4L80E Forward Drum Repair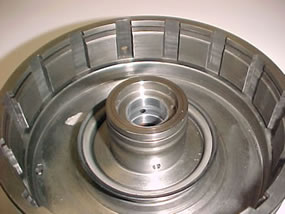 4L80E drums require a good sealing ring area for good apply. A ring cut drum is a smoked drum. Omega Machine & Tool, Inc repairs the drums with a steel sleeve, restoring the sealing area to like new condition and maintaining OEM dimensions. Original sealing rings are used. Why cause a potential headache for the next guy that rebuilds this unit?
Repair sleeves Part # 33353
Wider bushing Part# 33438
In addition to repairing the ring cut damage on the drums we have developed a wider bronze bushing to increase support for the input shaft, part number 33438. See comparison between OEM bushing and ours.
Newsletter Sign-up
One of the most efficient ways to stay in touch with our customers is through our newsletter. Usually we send it out monthly. We try to email only when we have a new product to announce. We promise never to sell or use your information for anything other than keeping you informed about what is going on with Omega Machine & Tool Inc. Sign up on the form on the lower right side of this page.
Translate this Page