A4LD Shift Lever Bore Repair Tool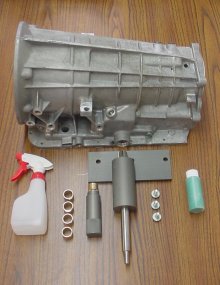 When I was building transmissions one of the most annoying things for me to do when I returned from a test drive after rebuilding someone's transmission, was to slid under the car and see a leak. It just took away that sense of a job well done. If you've been at it any length of time at all, you know what I mean.
The A4LD transmission has been a mainstay of the industry for a long time, and some have been rebuilt many times. The leak that comes from the shift lever area is one you don't have to worry about anymore. Omega Machine & Tool, Inc. has the answer! We supply you with a reamer and jig to repair the hole, a driver for installing a new bronze bushing, 5 bushings, coolant, spray bottle and instruction sheet. Call your local transmission parts house for price and availability.
Part # 66311
Newsletter Sign-up
One of the most efficient ways to stay in touch with our customers is through our newsletter. Usually we send it out monthly. We try to email only when we have a new product to announce. We promise never to sell or use your information for anything other than keeping you informed about what is going on with Omega Machine & Tool Inc. Sign up on the form on the lower right side of this page.
Translate this Page