Subaru 4EATAXLE Stator Tool and Bushings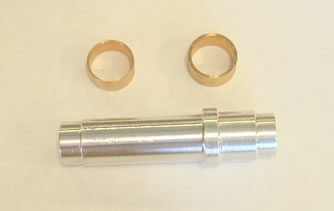 Subaru 1998 and up equipped with the Phase II four speed transmission may show a code P0741 converter slip. The cause may be worn stator bushings allowing a loss in the converter apply circuit.
These are very close tolerance bushings and must be installed with a press rather than a mallet. An installation tool is available to make sure the bushings are installed straight.
Part # 70428 Front Stator Bushing
Part # 70429 RearStator Bushing

Part # 70331 Installation Tool
Newsletter Sign-up
One of the most efficient ways to stay in touch with our customers is through our newsletter. Usually we send it out monthly. We try to email only when we have a new product to announce. We promise never to sell or use your information for anything other than keeping you informed about what is going on with Omega Machine & Tool Inc. Sign up on the form on the lower right side of this page.
Translate this Page