Toyota SLT/SLU Solenoid Tool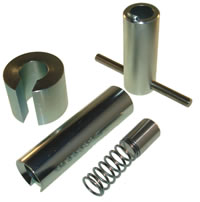 Omega Machine & Tool now has a tool to complement their AW55-50SN 09G solenoid opening tool. The Toyota SLT/SLU tool is sold as an add-on to the AW55-50SN tool. The base from your original tool is used along with these new pieces. The Toyota solenoids have a smaller diameter can that require almost all new pieces. Now you can disassemble, clean and replace worn solenoid bushings in your transmission's solenoids.
This can be a stand alone tool with the purchase of the base that came with the 31333 tool. It can be purchased here.
This tool is for the solenoids in a Toyota A750E,F / Lexus A761E transmission. These transmissions are in the 03 4Runner, 05 Tacoma V6 4 x 4, 03-07 Land Cruiser, the 06 Lexus GS 300, 07 GS 350, 10 Tundra, Sequoia 4.6L among others.
Part # 31342
Base to make the 31342 tool a stand alone tool set.
Part #31333B
We also have a tool for opening the AW55-50SN/09G solenoids
Part # 31333
Newsletter Sign-up
One of the most efficient ways to stay in touch with our customers is through our newsletter. Usually we send it out monthly. We try to email only when we have a new product to announce. We promise never to sell or use your information for anything other than keeping you informed about what is going on with Omega Machine & Tool Inc. Sign up on the form on the lower right side of this page.
Translate this Page