AW55-50SN Case Repair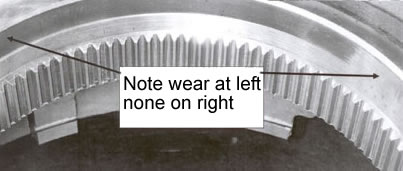 The AW55-50&51SN / RE5F22A transmissions used in Volvos, Saturns, Maximas, and Saabs are spitting the planetary bushings out of the planets. One of the reasons this is happening is because of wear in the Aisin Warner cases. The bore of the outer race for the drive gear becomes worn and allows excessive movement in the gear train. See picture at right. We repair the case with a steel sleeve back to original dimensions.
With the lose of parallel between the shafts, the side loads on the bushings lead to bushing failure.
The picture on the right shows the transfer gear hub poised above the splineded are where the wear is. This hub is held in the case by a narrow snap ring that can be a real pain to get out.
You can buy the sleeves separately below
Case Repair Sleeve Part #31356
The front bell housing also sufferes from the "loose bearing bore syndrome". Be sure to check this important bearing position for wear. Click on Front Bearing Flyer link below to see picture.
Newsletter Sign-up
One of the most efficient ways to stay in touch with our customers is through our newsletter. Usually we send it out monthly. We try to email only when we have a new product to announce. We promise never to sell or use your information for anything other than keeping you informed about what is going on with Omega Machine & Tool Inc. Sign up on the form on the lower right side of this page.
Translate this Page