42RE & 48RE Extension Housing Repair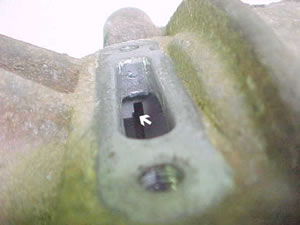 The extension housing on the Grand Cherokee and Dodge Dakotas have a habit of wearing the groove where the snap ring is. This allows the bearing to move back and forth, messing up your end-play. We have a precision cut steel washer that goes in the back of the case to position the bearing back in it's original location.
The spacers come in two different thickness. The upgraded washer/spacer, part # 120363, has a tang on the outside edge to prevent rotation. The washer is the same thickness as the older washers, but the bearing surface is increased to spread the load out over a wider area. See sizes below.
Warning, in some instances the bore that the bearing goes in, wears as well. If the outer race of the bearing is too loose in the tail-housing, you must find a way to keep the bearing race from rotating.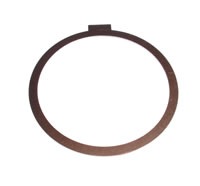 Part # 120364 - .0435"
Part # 120363 - .0560"
Newsletter Sign-up
One of the most efficient ways to stay in touch with our customers is through our newsletter. Usually we send it out monthly. We try to email only when we have a new product to announce. We promise never to sell or use your information for anything other than keeping you informed about what is going on with Omega Machine & Tool Inc. Sign up on the form on the lower right side of this page.
Translate this Page