E40D 4R100 Case Straightening Tool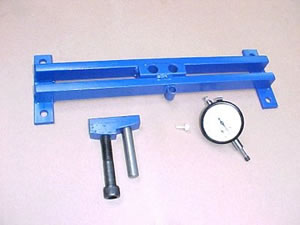 Omega Machine & Tool Inc. is pleased to announce the immediate availability of a new tool to complement our growing line of tools.
The tool is used to pull the valve body area back to original configuration. Often in the rush of a repair, the center support bolts are over-tightened, and the case is concaved in the center support area. Our tool has three main parts to it. One part bolts to the pan rail and one piece is placed inside the case. The internal piece has a stud that goes up through one center support hole and then a provided bolt threads down through the tool and into the internal piece of the tool. When you tighten the bolt, the case is pulled back to dimension. A dial indicator is provided to track the movement of the valve body area.
Call Omega Machine & Tool, Inc. for more information.
| | |
| --- | --- |
| Internal piece in place | |
| Adjusting the deck height | |
| Checking for flatness | |
Part # 73320
Newsletter Sign-up
One of the most efficient ways to stay in touch with our customers is through our newsletter. Usually we send it out monthly. We try to email only when we have a new product to announce. We promise never to sell or use your information for anything other than keeping you informed about what is going on with Omega Machine & Tool Inc. Sign up on the form on the lower right side of this page.
Translate this Page